RED Spy
Race
Human
Age
21
Gender
Male
Theme
Right behind you
Status
Affiliation
Neutral
Primary Skill
Abilities
Backstab
Statistics
Powers Inspired By
Team Fortress 2, Modern
Play Style
Revenge Killer
Other
IRC Nickname
Spy
"Right behind you"
—Spy
The RED Spy is a French mercenary, relying on stealth and disguises in order to assasinate targets. He is currently hired by Lancer, receiving exposure to Dark Phazon in order to become more effective.
Background
Edit
Base Stats
Edit
Base Stats
Stat
Quantity
HP
85
Attack
110
Defense
80
Special Attack
25
Special Defense
80
Speed
120
The base stats of RED Spy.
Note that the spy can only carry one of each weapon with him, excluding the misc weapons.
Note: Each knife is capable of performing a backstab that deals enough damage to effectively cripple an opponent unless they have high defenses.
Knife: Standard butterfly knife.
Your Eternal Reward: A long, ornate dagger. Victims of backstab are cloaked to allies, unable to make noise; inflicts a stun effect. The user gains the disguise of the one backstabbed, but the Disguise Kit is disabled.
Conniver's Kunai: Absorbs 40% health of a backstabbed target. Base HP is reduced to 75.
Enthusiast's Timepiece: Cloaks the user for a minute.
Cloak and Dagger: When standing still, the user will always be cloaked, with no heat signature to detect him. Grants 45 seconds of invisibility.
Dead Ringer: A clone of the user is created. Cloaks for a minute, but when the invisibility is thrown off, a loud noise will be created.
Big Kill: Standard revolver.
Ambassador: Headshots deal 50% of an opponent's HP. Weakens after initial shot.
Electro Sapper: A small radio-like box that drains electricity from nearby objects
Disguise Kit: A cigar case that allows the user to become any character in the area.
ÜberCorruption
Edit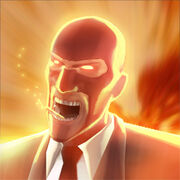 As a direct result of the Dark Phazon granted to him, the Spy is able to enter an ultimate form with ÜberCorruption. This form grants him invincibility for a short time, and doubles his speed and attack stats. It is a last resort move for the Spy, and has never been seen.
Ad blocker interference detected!
Wikia is a free-to-use site that makes money from advertising. We have a modified experience for viewers using ad blockers

Wikia is not accessible if you've made further modifications. Remove the custom ad blocker rule(s) and the page will load as expected.