Main | Courses | Skills | Battle | Leave
Training School Courses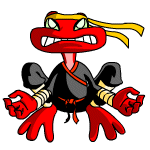 There are four types of courses. Basic courses are easy; they don't take long to complete, but teach you very little. Advanced and Master courses take longer to complete and are for higher leveled battlers.
Courses
Below Basic - 1 Codestone
Basic - 2 Codestones
Intermediate - 4 Codestones
Advanced - 6 Codestones
Expert - 8 Codestones or 1 Red Codestone
Sign-Ups / Dropouts
Edit
Timson (expert please)

is the assassin, so will not be given any lessons ----Rathon622222 06:52, November 13, 2015 (UTC)
There are no current training sessions.
Ad blocker interference detected!
Wikia is a free-to-use site that makes money from advertising. We have a modified experience for viewers using ad blockers

Wikia is not accessible if you've made further modifications. Remove the custom ad blocker rule(s) and the page will load as expected.