Ken
Race
Pokémon
Age
13
Gender
Male
Theme
Captain America's theme
Status
Affiliation
Good
Team
Neo User Battle Force (Throwback Arc), User Battle Force (Civil War Arc-onwards)
Partner
Manew
Primary Skill
Abilities
Flash Fire, Regenerator, Moxie
Statistics
Powers Inspired By
Pokemon
Tier
Unplaced
Other
IRC Nickname
_Ken
Used By
Mega
Ken is a Pokémon who has the powers of numerous Pokémon combined. He and his sister, Manew, are considered Yin and Yang, as they have opposite abilities and powers.
Base Stats
Edit
Normal Form
Edit
Base Stats
Stat
Quantity
HP
95
Attack
136
Defense
70
Special Attack
112
Special Defense
70
Speed
90
The base stats of Ken.
Base Stats
Stat
Quantity
HP
95
Attack
137
Defense
100
Special Attack
110
Special Defense
100
Speed
70
The base stats of Ken.
Mega Form
Edit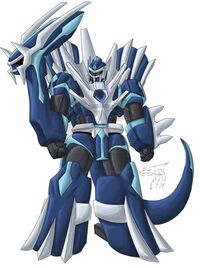 Base Stats
Stat
Quantity
HP
110
Attack
172
Defense
145
Special Attack
152
Special Defense
130
Speed
130
The base stats of Ken.
Advanced Techniques
Edit

Flaming Fists

- Inate
Passive - After Ken uses an advanced technique, his attack stat increases by 1 for four seconds and any autoattack Ken uses within the next 3 seconds will deal 2 true damage over time. These amounts stack up to 25 times. If Ken is hit by an advanced technique, he gains 1.5x speed and 1.5x attack speed over the next 3 seconds at the cost of half of the stacks.
Ignition
- 4 second cooldown
Passive - Ken deals 2 true damage over time anytime his attack hits the opponent.
Active - Ken surrounds his fist with flames. His next autoattack will deal an additional 150

(+0.3 per bonus attack damage)

(+0.3 per ability power)

physical damage. This damage is calculated with the target's original defense stat. The target's special defense is lowered by 10 for 6 seconds, and will take 75

(+1 per ability power)

special damage over the course of 6 seconds.
Burning Fury
- 75 second cooldown
Ad blocker interference detected!
Wikia is a free-to-use site that makes money from advertising. We have a modified experience for viewers using ad blockers

Wikia is not accessible if you've made further modifications. Remove the custom ad blocker rule(s) and the page will load as expected.